Welcome to the Music Store
Please use the tabs above to navigate through the various albums available for sampling/purchase. Each track can be bought individually as well. You can also click here to visit Chuck's Band Camp page, which also features other individual tracks. The music available in the store features albums and tracks performed by Chuck Cantalamessa with his band Wind Star, as well as some solo/duo performances. We will occasionally offer other singles, as well as some older items from the archives, so check back frequently.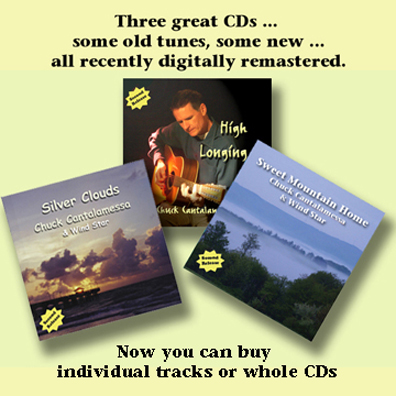 High Longing
Chuck Cantalamessa teamed up with his long time and favorite music partner Chuck "Trunk" Kirkpatrick on this newly remastered CD. These original compositions, written by Chuck Cantalamessa, were recorded in a unique electric/acoustic fashion. Laced with the lush vocal harmony production of Chuck Kirkpatrick, the vocal melodies are tastefully enhanced by his creative instrumental wizardry. The masterful collaboration of these two veteran musicians takes this latest recording to another level.
Silver Clouds
This recently digitally re-mastered CD contains 10 original songs composed by Chuck Cantalamessa and performed by his group Wind Star. This collection of mellow rock tunes includes Mystical Lady, the song that won Chuck his first of three appearances on Star Search.
Sweet Mountain Home
This recently digitally re-mastered CD contains ten original songs composed by Chuck Cantalamessa and performed by his group Wind Star. The title song, Sweet Mountain Home tells of his return to the mountains of Southwestern Pennsylvania.
Call it a Dream
The "Call it a Dream" album consists of numerous "deep tracks" and a few crowd favorites in all-acoustic formats never before released. Most of these songs were captured "live" at premier acoustic venues in Ft. Lauderdale, Miami, Boca Raton and Dania. Each track represents the original acoustic versions in which these songs were written and initially performed. While these recordings don't feature the lush studio-quality sounds or slick production embellishments, the raw delivery of a simple performance sometimes says it best. For those who've asked for it, this collection is for you.
Bonus Tracks
We occasionally add special offers of archived music, solo performances, etc. Here are a few currently available.
You can also always check out our Band Camp page for new items at chuckcantalamessa.bandcamp.com.